Community Involvement
The Huffaker Family has owned the Clinton Inn since May 31, 2019. While we are new to Michigan and the Village of Clinton, we believe strongly in supporting the local community where we live and do business. Here are some things we're doing locally, as well as a few of our fundamental principles that are the core of our operations.
Supporting Local Businesses
We support and promote other local businesses, even ones that could be perceived as "competition".
From a restaurant/bar standpoint, we operate under the philosophy that there is plenty of business to be shared by all of the local food and drink establishments. If we all thrive, we can all succeed together.
We support the ideology that having a larger selection of local businesses in town will attract more overall customers to the area. This will ultimately benefit of the village, the businesses, and the residents by providing more options and services.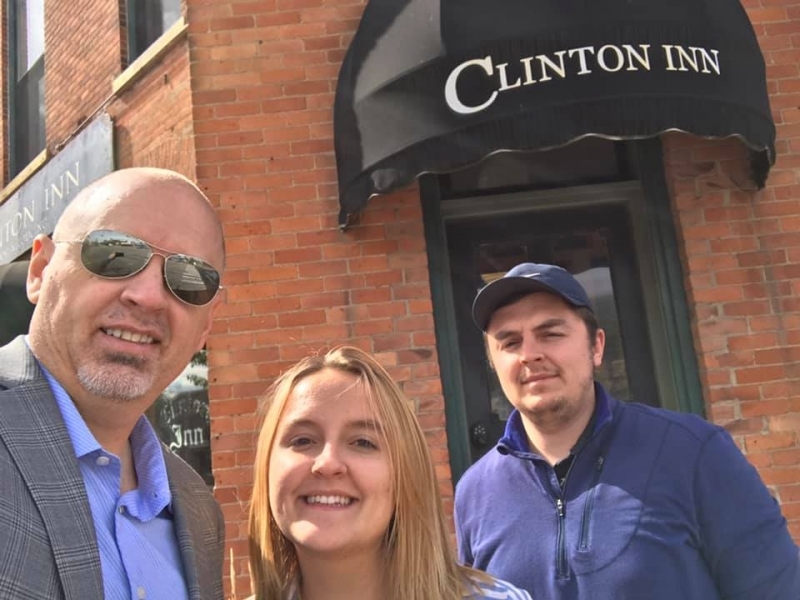 Supporting Local Vendors
The Clinton Inn is a large building with many different business operations within. We purchase food and other supplies almost daily, and we regularly make repairs and improvements to various parts of the building.  When we utilize local vendors, our money spent goes directly back into the community to help it grow and thrive.
We use local contractors from within Clinton or surrounding areas for repairs and improvements whenever possible. This includes roofers, electricians, plumbers, HVAC, flooring, and other general contracting.

We purchase as much produce and other goods as possible from Clinton Farmer's market during the summer season.

We hire employees from within our community as much as possible.

We hold all of our finances at local banks and credit unions within the Village of Clinton.

As much as possible, we purchase all equipment and materials from local sources first.

All of the bread we use in the Sandwich shop is made locally by Busch's Fresh Food Market of Clinton.
Supporting Local Organizations
There are many wonderful charities, school groups, and other organizations in Clinton that require critical funding to operate and thrive. Our commitment to the community is that we will support all of these groups with either cash donations, food donations (when appropriate), or gift certificates for food and/or services. All they have to do is ask, and we will collaborate to determine the best way that we can help.
Rotary Clubs and other community service based organizations.

School programs such as sports and music.

Youth programs: 4-H, Boy Scouts, Girl Scouts, Cub Scouts

Church groups and programs

Non-Profit Foundations such as cancer charities
Local Residency
In 2020, the Huffaker Family purchased a house in the Village of Clinton, just a couple blocks away from the Clinton Inn.  It is used as a full-time residence and office space for the company.
Community Involvement
Members of management at The Clinton Inn serve on the board of the Village of Clinton DDA (Downtown Development Authority) and advocate for the improvement of the downtown area as well as local businesses and their success and growth within the village.
Surplus Food Donations
When we shifted our restaurant to curb-side only service during the Covid-19 shutdown, we regularly had left-over meals that would have been difficult to save or re-use. We coordinated with a local church leader in Clinton to distribute the extra meals out into the community for those in need.

As a restaurant that also operates as a venue, we frequently have left over food from private dinners or special events. It's usually not possible to save or re-use this food. Rather than throw away leftovers, we try to find ways to donate the food out into the community to those that may need it. We prefer to put it to good use rather than just throw it out and waste it.