The historical Clinton Inn is a charming venue and perfect location for a variety of private events and gatherings. Use our entire dining room, our smaller coffee lounge (Red Room), the Clinton Coffeehouse, or the entire ground floor for your next event or party. Whether you need super casual or extra fancy, the Clinton Inn has you covered.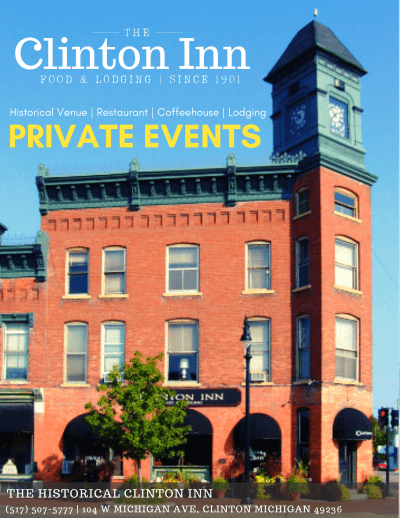 Catering / Dinner Options
We provide an assortment of meal options to fit any dinner occasion. Dinner options are selected in advance from our featured catering menus and can be served buffet-style, family-style, or full service.
Individual Add-Ons and Options
If you're looking for an event but dinner is not part of your vision, we have numerous other options available for purchase. Each option can be purchased separately or with other options. For example, you may want hors-d'oeuvres and/or a coffee station. Please coordinate any of these options with one of our event planners.
We offer a basic room usage fee for those times when you need some space but don't need any food, drink, or other options. For example:
Yoga or Dance Classes
Business Meetings
Business Seminars or trainings
For certain types of functions, we can also provide basic items like bagel, donut, or sandwich trays.
Non Profits and Community Groups
We offer discounted and no-cost room usage to qualified organations and depending on the date/time and type of function. If you are a school, church, non-profit, or other community or charity organization, please contact us to discuss your needs.
The Coffee Lounge area (Red Room), located just off the hotel lobby, has a seating capacity of up to 35 people. The usage fee for this room is $35/hour with a 1 hour minimum. After 6PM, the rate is $65/hour.
The entire Clinton Coffeehouse can be reserved for casual business meetings, and has a capacity of up to 20 people.  A Barista is required for the duration of the reservation, and drinks are available for purchase.  The usage fee for the Coffeehouse is $125/hour during business hours with a 2 hour minimum.  After 6PM, the usage fee is $65/hour and it is available until 2am. For private parties during business hours, the Coffeehouse is closed to the public for the duration of your party.
The restaurant dining room at The Clinton Inn has a capacity of 80-100 people depending on seating configuration.  If your event requires use of this room during normal business hours, we will completely shut down the restaurant to the public to accomodate your function. The cost of the room is higher during business hours for this reason. Please contact us to discuss details and pricing for your event. You can refer to the restaurant page to see our normal business hours.
Request Information or Quote