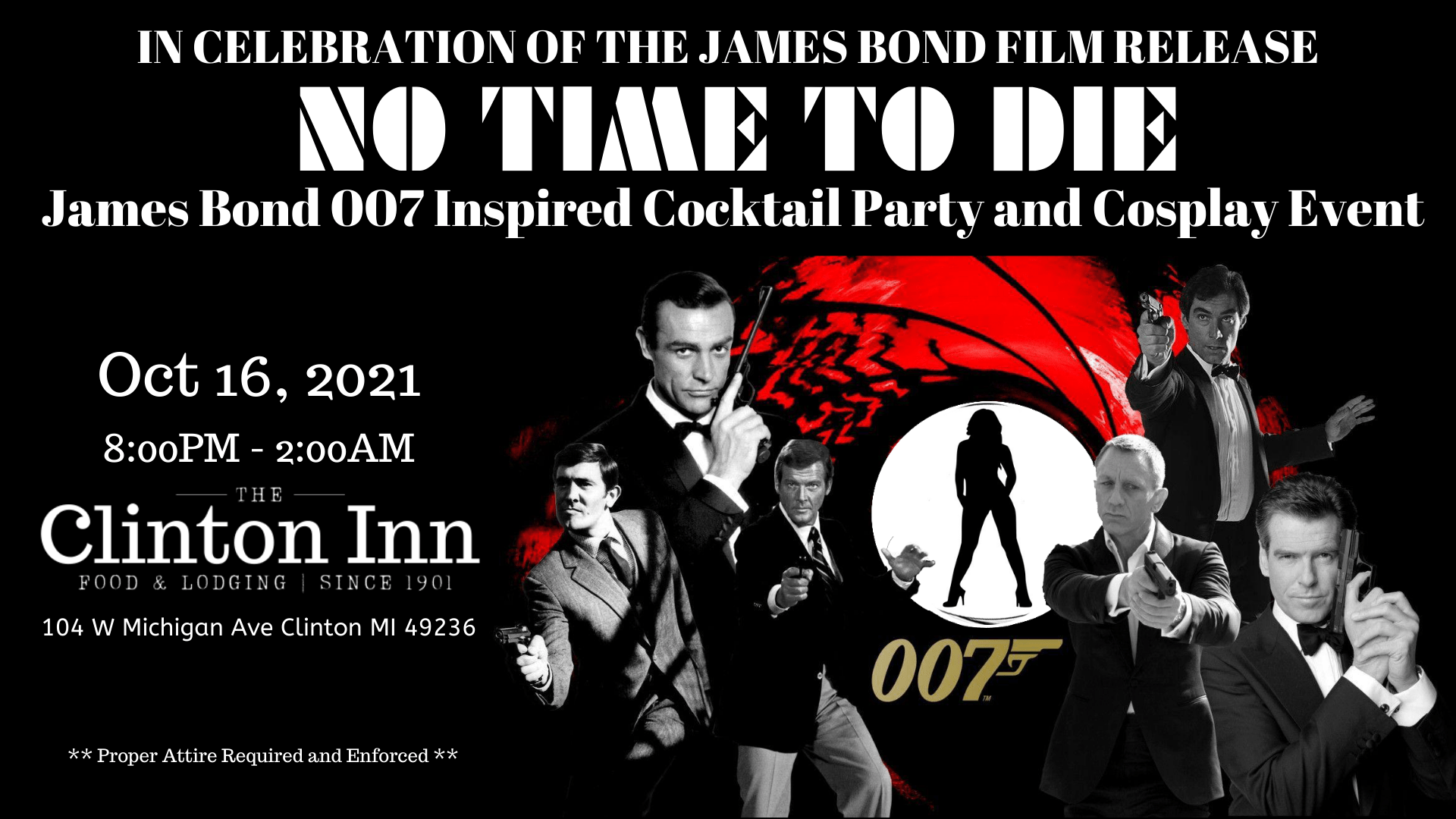 Event Details
Theme & Format
James Bond 007 Inspired Cocktail Party and Cosplay Event
Date And Time
Sat, Oct 16, 2021, 8:00 PM – 2:00 AM
Location
The Clinton Inn
104 West Michigan Ave
Clinton, MI 49236
Dress Code
Required and Enforced. Review details below.
Ticket Prices
Buy Online: $125 per couple; $90 Single
At the Door: $150 per couple; $100 Single
Purchase Tickets
Buy tickets online at EventBrite
James Bond 007 Inspired Cocktail Party and Cosplay Event
You are cordially invited to attend a royal affair in honor of the new James Bond file "No Time To Die". Our guests will be treated to an assortment of Bond style delights at this upscale event.
Hors d'oeuvres
Casino games
Door prizes
Bond themed cocktails available
Door prizes and costume contest
Live entertainment
Watch the Video Announcement
Dress Code
This event will be a "Jacket Required" or "Bond Film Cosplay" dress code and will be enforced. The following are considered acceptable attire:
Men: Dinner jacket or black-tie ensemble in the style worn in the James Bond films.
Women: Cocktail dress, in the style worn in many of the James Bond films.
Bond Movie Cosplay Attire. Any costume or attire worn by any character in any Bond Film.
Cosplay Event
Dress up in your best Bond style formal wear, or dress the style of one of your favorite characters. With 25 Bond movies spanning almost 60 years, the options are endless. Here are some ideas:
Character Categories
Your Favorite Bond Villain
Your favorite Bond Girl
Your Favorite Henchman or Goon
Your favorite Bond Actor
Your favorite MI6 Character
Your favorite supporting actor or actress
Character and Attire Ideas
Bond Attire and Costumes
Bond dressed in any attire from any movie, from tuxedo to dinner jacket, to casual or sporty, swimwear, sauna, or on the golf course.
The Onesie Sean Connery wore in the sauna in Goldfinger
Ruffled dress shirt and highland dress from OHMSS
Terrycloth camp shirt in Diamonds are Forever
Velour Tracksuit from a View to a Kill
Printed shirt in Casino Royale opening scene
Powder blue leisure suit from Live and Let Die
The La Perla blue swimming trunks from Casino Royale.
The clown suit or gorilla suit from Octopussy.
The wetsuit from Thunderball.
Bond Girl Attire and Costumes
There are so many great Bond Girl outfits to choose from. Some examples that would stun any audience:
Swimsuit worn by Honey Ryder in Dr. No
Swimsuit worn by Jinx in Die Another Day
Octopus robe worn by Octopussy in the film
Shorts and tanktop worn by Dr. Christmas in The World is Not Enough
Outfit worn by Solitaire in Live and Let Die
Dress and Necklace worn by Vesper Lind in Casino Royale
Body suits worn by the Flying Circus in Goldfinger
Pants and Jacket worn by Pussy Galore in Goldfinger
Sophie Marceau Red Lace Dress from The World is Not Enough
Lea Seydoux grey satin dress in Spectre
Army outfit worn by Rosa Klebb in From Russia With Love
Bonus Ideas
Watch "No Time To Die", opening weekend on Oct 9th, then come dressed as any of the characters in this long awaited film release!
Other Film Character Ideas
Can't think of what to wear? Choose from any of these most popular characters from the full spectrum of Bond Films, and dress to match!
Auric Goldfinger
Dr. No
Mr. White
Octopussy
Honey Ryder
Jynx
Francisco Scaramanga
Jaws
Max Zorin
Oddjob
Domino Derval
Money Penny
M
Q
Ernst Stavro Blofeld
General Orlov
Sheriff Pepper
Mr. Kidd and Mr. Wint
Irma Bunt
Gobinda
Nick Nack
May Day
Pussy Galore
Boris Grishenko
Vesper Lynd
Xenia Onatopp
Dr. Christmas Jones
Camille Montes
Colonel Ourumov
Solitaire
Elektra King
Dominic Greene
Le Chiffre
Franz Sanchez
Hugo Drax
Elliot Carver
Mr. Big
Raoul Silva
Rosa Klebb
The Clinton Inn is located in the Village of Clinton, Michigan just 20 miles west of Ann Arbor.  The Clinton Inn is a distinct and recognizable landmark located in the downtown Clinton business district, which is recognized by the National Register of Historic Places. It is located on the historic US 12, the main route for business and transportation between Chicago and Detroit in the early 1900's. Clinton was established in 1829 by early settlers from From New York state, and named after their state governor, Dewitt Clinton. The current site of the Clinton Inn was first settled by Alpheius Kies, who built a small log house. After several changes in ownership, Alonzo Clark tore down the house and built the present 3-story brick hotel and officially opened it on Thanksgiving Day in 1901.
The hotel has three stories; the first floor features the full service restaurant, the Clinton Coffeehouse, and private event venue. The second floor is all guest rooms while the third has served as apartments since the 1980's.
The hotel was purchased by the Huffaker Family in May 2019. The hotel was in a state of disrepair at the time of purchase, and numerous improvements have been made.  Currently 4 rooms are available for nightly rentals, and larger renovations are planned to bring the hotel back to it's glory days.