Host Your Wedding at the Historic Clinton Inn
The Clinton Inn is a beautiful venue with a rich personality and historic charm, making it the perfect setting for your special wedding. Whether you want something formal or super casual, you'll find that the Clinton Inn will deliver a unique and memorable event that you'll remember for years to come.
We offer a full-service wedding experience and include a dedicated wedding planner and a bridal suite, and we have packages that include a Rehearsal Dinner, the Wedding Ceremony, and the Reception. We have numerous options to make your event a grand celebration by utilizing multiple floors, rooms, layouts, and decorations. More info can be found on our Event Center page.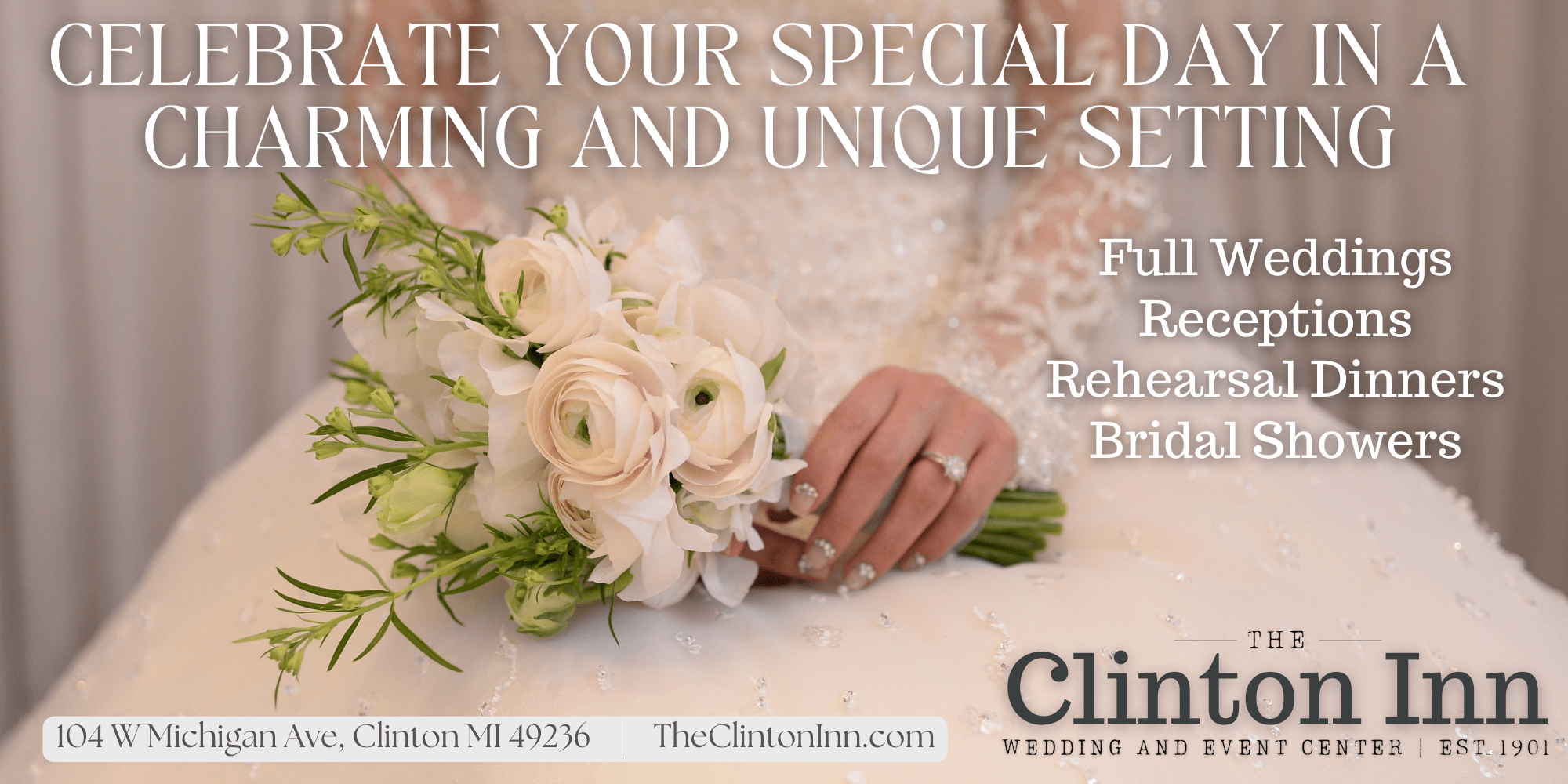 Local Area Information and Attractions
Check out the Clinton Inn blog for tourist information, food and drink options, area attractions, news updates, events, and more! Our most recent posts are below.
The Clinton Inn is located in the Village of Clinton, Michigan just 20 miles west of Ann Arbor.  The Clinton Inn is a distinct and recognizable landmark located in the downtown Clinton business district, which is recognized by the National Register of Historic Places. It is located on the historic US 12, the main route for business and transportation between Chicago and Detroit in the early 1900's. Clinton was established in 1829 by early settlers from New York state, and named after their state governor, Dewitt Clinton. The current site of the Clinton Inn was first settled by Alpheius Kies, who built a small log house. After several changes in ownership, Alonzo Clark tore down the house and built the present 3-story brick hotel and officially opened it on Thanksgiving Day in 1901.
The hotel has three stories; the entire first floor now serves as a full-time wedding and event center featuring a full dining room, a smaller capacity banquet or ceremony room, a coffeehouse, and a full commercial kitchen that serves a variety of meal options for any private event. We offer tours of our facility for anyone interested in hosting an event.  The second floor is all guest rooms. We currently have 3 rooms available for rent, and our primary focus is geared toward romantic getaways and unique experiences rather than just another place to stay. We have some plans in the works and hope to have 6 rooms total by the end of 2023. The third floor served as apartments since the 1980s but is currently unused due to its poor condition. The hotel was purchased by the Huffaker Family in May 2019 and was in a state of major disrepair at the time of purchase. Numerous improvements have been made since, and we continue to work to turn the Clinton Inn into a unique and thriving hotel operation and showpiece of the community.