Please refer to our home page for all relevant and up to date business information. Click here for home page.
Restaurant at The Clinton Inn
The Restaurant at The Clinton Inn is a home town, all American restaurant. We are currently offering Dinner and Brunch options at this time. For dinner, we feature a variety of steaks, seafood, fresh salads, and pasta using many locally sourced and farm to table ingredients. We're well known for our soups we make from scratch, and you never know what we might be featuring on any given day.
Our Weekend Brunch menu delivers delicious and hearty items you won't get anywhere else like our Southwest Chicken Waffle and our Huevos Rancheros Beef Brisket Skillet. We introduced the world to Brunch, Huffaker Style, in June of 2019 when the Huffaker Family purchased The Clinton Inn. It has become a popular brunch spot that many people have come to love and enjoy. We have a Mimosa Bar and a large Bloody Mary Bar to compliment Brunch, and we serve premium coffee, tea, and lattes from the Clinton Coffeehouse.
Restaurant Features
Happy Hour 4pm-8pm Weekdays

Delicious New Dinner Menu
The Restaurant Menus
Our Restaurant Dinner menu is small and simple. We offer a variety of steak, seafood, pasta, fresh salads, and healthy sides.  Our menu changes from week to week as we introduce new items, seasonal vegetables or fruits become available, or if we just want to try something new. You never know what we might add next week!
In addition to the dinner menu, we currently offer a featured family-style dinner of the day for dine-in, carryout, or curbside pickup. We also feature chef's special items on certain days such as our Friday Fish Fry that are not on our menu.
Friday Fish Fry
Every Friday is Fish Fry Day! Or is it Fish Fry YAY! Come check us out, we serve classic Fish and Chips style fish fillets featuring different seasonal types of wild caught fish and batter it using our own secret beer batter recipe. Regardless of how we do it, you always get frys, coleslaw, and a hush puppy.
Frequent Favorites
Wild Caught Alaskan Cod. Moist, flakey, and delicious with a smooth and mild flavor. Beer battered with our secret recipe.
Wild Caught Pacific Pollock, beer-battered with our secret recipe. This cold water ocean fish is mild-flavored, moist, and delicious.
Wild Caught European Zander (Pike Perch). A sweeter fish that is flakey and delicate with a complex and delightful flavor, it's breaded with cornmeal and a blend of herbs and spices.
Beer Specials
What better way to wash down Beer Battered fish than with a bucket of ice cold beer! We feature iced beer buckets all day long.  A bucket of 5 craft/local beer is just $16, and a bucket of 5 domestic beer is only $14.
Restaurant Business Hours
Our normal business hours for the restaurant at The Clinton Inn are shown below.
| Day of Week | Venue Type | Business Hours |
| --- | --- | --- |
| Monday | ---------- | Closed |
| Tuesday | Curbside Dinner | 4:00PM - 7:00PM |
| Wednesday | Curbside Dinner | 4:00PM - 7:00PM |
| Thursday | Curbside Dinner | 4:00PM - 7:00PM |
| Friday | Curbside Dinner + Fish Fry | 4:00PM - 7:00PM |
| Saturday | | Closed |
| Sunday | | Closed |
Online Sunday Brunch Menu
View our current Brunch Menu here:
Sunday Brunch
Our Sunday Brunch happens between 10am and 2pm and is a Sunday Only menu offering that features some unique items you won't find anywhere else.
Clinton Coffeehouse Coffee
Enjoy a Nutty Mocha or a variety of premium coffee drinks such as Lattes, Mochas, and Espressos with your brunch, exclusively for brunch from the Clinton Coffeehouse!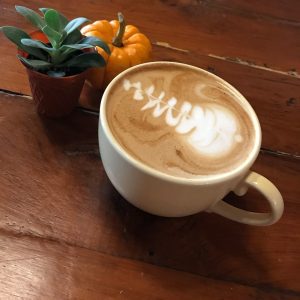 Mimosas and Sangrias
Enjoy our awesome Mimosa's and Sangrias with brunch, served after 12PM.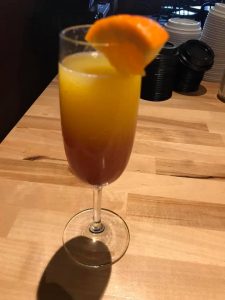 What's Up With The Waffles!
Legend has it that in the early part of the century (circa 2002), Marvin Huffaker had been asking his wife for a Waffle Maker for Christmas for several years. However, for the longest time, she thought it was a joke and bought him socks and underwear instead. Then on a business trip to California, Marvin stumbled upon the most incredible waffle maker he had ever witnessed. He just had to buy it right then and there. It was a Professional grade Belgian Waffle Maker, and it soon became a fixture on top of the countertop at the Huffaker Household.
Marvin's love for waffles turned from making waffles for the family on Sunday morning, to making waffles for neighbor kids that stayed over. Soon after that, the waffle craze turned into complete Waffle Parties. This was in Arizona, and friends from all over would come splash in the pool or hot tub, play board games inside, hang out and enjoy the back patio, and of course enjoy a variety of waffles and cocktails. We would experiment with different types of waffles as well as toppings.  Some were sweet dessert waffles, while others were savory and hearty.
Rightfully so, many people didn't understand the waffle party concept, nor could they grasp the concept of a savory waffle. Most people think a waffle is just a sugary snack that holds syrup neatly in a little square. And many people questioned how a Cornbread waffle could even be considered food. But anybody that tried the waffles were quickly turned into raving fans.
The thought of opening a Waffle restaurant or even a Waffle Party catering business crossed Marvin's mind quite a bit, but with scheduling and other business committments, it wasn't a feasible option at the time. Not until Marvin and his family purchased The Clinton Inn anyway.  With the Clinton Inn, and the acquisition of the full commercial kitchen, we were presented with lots of options and  possibilties. So with Sunday Brunch, we decided to start introducing Michigan to Waffles… Huffaker Style.
We've taken many of our favorites and expanded or modified to make them even better, and we have some great hits and a few misses.  But to this day we have numerous Waffles on our menu, and regularly feature specialty waffles for limited time periods.  We hope you'll come check out our Sunday Brunch and see what kind of waffles we're offering that day. And once you try them we know you'll be hooked! Here are a few waffles we have delivered:
Southwest Waffle.  A Cornbread waffle with black beans, cherry tomatoes, avocados, diced sweet onion, cheddar cheese and a dollop of sour cream.

Southwest Chicken Waffle. An Amped up version of the Southwest Waffle. We add grilled chicken, a fried egg, and salsa.

Chili Cheese Waffle. It's a cornbread waffle with vegetarian chili, cheddar cheese, and sour cream.

Holiday Turkey Waffle. This is a special presenation we offered from Thanksgiving week through the end of December. It's a cornbread waffle with roasted turkey breast, mashed potatoes, dressing, and topped with turkey gravy, a slice of cranberry, and a side of sweet baby gherkins.

Chicken and Waffles. This quickly became a fan favorite. We use a gluten free sweet waffle, then top it with three fried chicken tenders, and then smother it with syrup (that has thick bacon crumbles in it).

Chocolate Waffle. A sweet waffle made with chocolate batter, topped with crushed chocolate bits, toffee, and drizzled with chocolate and caramel.
Cinnanon Apple Waffle.  A fall treat we introduced, this is a sweet waffle more on the dessert side. It's a sweet gluten free waffle. We top it with baked apples that are baked with brown sugar and cinamon, and topped with caramel sauce and whipped cream.

Strawberry Waffle. A simple fresh waffle, it's a gluten free sweet waffle topped with fresh sliced strawberries and whipped cream.

Very Berry Waffle. A summertime favorite, it's a gluten free sweet waffle topped with fresh sliced strawberries, blueberries, and raspberries.

Nanners and Bluebs Waffle. Also a summertime favorite, a gluten free sweet waffle topped with fresh blueberries, fresh sliced bananas, and a dollop of whipped cream.

Banana Split Waffle. It's a dessert waffle, sweet gluten free waffle topped with carmelized banana, walnut crumbles, fresh strawberries, drizzled with chocolate sauce and topped with whipped cream.

Double Stack Waffle. Any waffle we offer, with two waffles stacked on top of each other.
Frequently Asked Questions
Since purchasing the Clinton Inn, we do occasionaly get questions about the restaurant in comparision to what the previous owners did during their 20+ year tenure of owning the restaurant. It's important to understand that we are a new business with a new vision, and we have and continue to make many changes. Here are answers to a few of the questions we receive. If you have other questions that aren't covered here, please feel free to fill out our contact form or reach out to us on Facebook.
Gift Certificates Available for Online Purchase
Purhase Gift Certificates Online
We are now offering Gift Certificates online in the amounts of $10, $25, $50, $100, and $200 for use in the restaurant at The Clinton Inn and the Clinton Coffeehouse.  You are able to purchase the gift certificate on-line and pay in full. Once we receive your order, we will mail you a physical certificate for the value purchased. The gift certificates will be valid for up to a year after they are issued, and can be used starting immediately once we re-open the restuarant and Clinton Coffeehouse.
NOTE: When you buy a $50 gift certificate, we will send you one valued at $55. When you buy a $100 certificate, we will send you one valued at $115. We will only be offering this during the mandated shutdown.