The Clinton Coffeehouse and Cafe offers delicious coffee, tea, sandwiches, hot soup, and fresh salad! We feature unique and fun lattes, mochas, espresso, hot chocolate, and smoothies. We also feature many freshly roasted single-origin coffee from locations like Ethiopia, Kenya, Costa Rica, Guatemala, and more.
Located just inside the main entrance of the Clinton Inn, we are the perfect spot to gather with friends for a casual, friendly lunch experience.
Business Hours
Business Hours: We are open on the Weekends in conjunction with Brunch.   Saturday and Sunday from 9 AM until 2 PM. We will also open during special events such as the Clinton Fall Festival. 
Hot Brewed Coffee
Delicious hot coffee is our specialty.  We brew hot coffee daily that is simple, but rich and satisfying. We know you'll love our coffee because all beans are ground fresh daily from our locally roasted beans!
We have a variety of coffee beans available for purchase.  Need us to grind it for you? No problem, we'll do it while you wait, and can grind it as coarse or fine as you need so that you can brew the perfect cup at home.
Medium Roast Decaf Coffee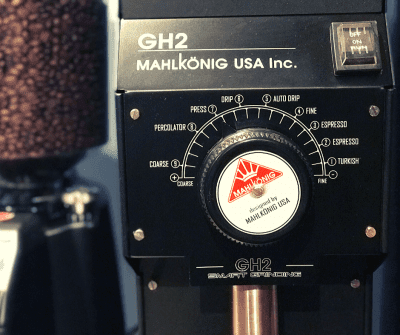 We carry several different varieties of Single Origin coffee beans from some of the finest coffee regions in the world.  We sell these by the bag, and we'll even grind them fresh in the store so you can brew your own perfect coffee at home.
On Saturdays, we feature one of these Single Origin coffees and brew a full batch of it so our customers can purchase a hot cup and enjoy it immediately. Come in or check our Facebook page to find out what we're brewing next Saturday!
What is a Single Origin coffee?
Quite simply, Single Origin coffee is a coffee that is sourced from one single producer, crop, or region in one country. Every cup of coffee can be traced back to the exact producer of the coffee. It is not blended, mixed, or diluted with beans from other sources, and it is one of the purest coffee experiences you can enjoy.
With Single Origin coffee, you know exactly where your coffee is from and that it's not a blend. It's generally higher quality, and the flavor depicts its origin, possessing characteristics of the specific area where the coffee was grown.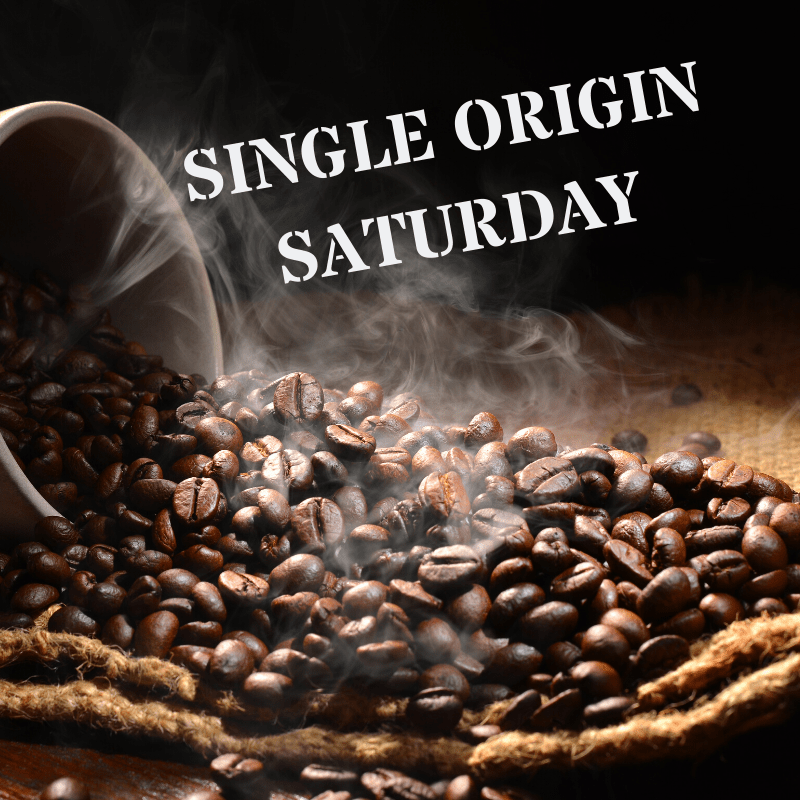 Our Single Origin Coffee Varieties
Availability is seasonal and may vary.
Our 𝐆𝐞𝐥𝐚𝐧𝐚 𝐀𝐛𝐚𝐲𝐚 coffee is produced by the Galana Abaya Wet Mill in Yirgacheffe, Ethiopia using a Natural method. If you're unfamiliar, It is a method suited to arid regions, where the sun and heat can dry the seed inside the intact fruit skin. It's often referred to as "natural coffee" because of its simplicity, and because the fruit remains intact and undisturbed, a bit like drying grapes into raisins.
This natural process coffee comes from the Gelana and Abaya districts in the Borena Zone of the Oromia region. There are approximately 1400 hectares shared amove 650 farmers. Once ripe cherries are picked, they are dried in the sun on drying beds for about 18-21 days. In the daytime, the cherries need to be raked periodically in order to ensure a consistent drying process. They also cover the cherries from 12 pm to 3 pm in order to protect them from the hot sun This cover is also used at night to protect the cherries from rainfall.
Producer: Gelana Abaya Wet Mill
Elevation: 1950-2200m
Varietal: Indigenous Heirloom
Process: Natural
Tasting Notes: Peaches & Cream, Raspberry Smoothie
Our La Pastora coffee is produced by Coope Tarrazu in Tarrazu, Costa Rica.  Coope Tarrazu was established in 1970 and since that time has become one of the major contributors to the economic development in the Los Santos region of Tarrazu.  Currently, Coope Tarrazu has 2,600 members. The Co-op assists in getting its members technical assistance, low-cost loans and low prices for fertilizers. One of the most important aspects of the cooperative is the economic benefit for the region and the members. Annually, the Co-op employs approximately 10,000 people; either directly in coffee production or in a supporting role. Coope Tarrazu is currently controlling the entire production process, from picking the cherries through the milling, drying and exporting procedures thereby assuring consistent quality each year.
Producer: Coope Tarrazu
Elevation: 1500m
Varietal: Caturra, Catual
Process: Washed
Tasting Notes: Toffee, Nutty, Milk Chocolate
Our El Palto coffee is produced by Ronal Montenegro in Yamon, Amazonas, Peru.  El Palto is an SHG EP grade Fair Trade and Organic certified coffee from Peru. This lot comes from the Asociacion de Productores Cafetaleros Juan Marco El Palto (JUMARP) also known as "El Palto".  The cooperative is located in the Amazonian Andes in northern Peru. Founded in 2003 by 35 small farmers, the association now consists of 189 active members with a total area of 549 hectares in production. All members produce organic and Fair Trade Certified coffee. Women represent 40 of the organizations' families, including continual representation on their Board of Directors. The Association's mission is to meet the demand of their buyers in specialty coffee allowing an increase in income for the farmer member and their families. This particular lot is grown by Ronal Carranza Montenegro on the Farm Juan Herrera.
Producer: Ronal Montenegro
Elevation: 1550m
Varietal: Caturra, Typica, Catimor
Process: Washed
Tasting Notes: Brown Sugar, Cherry Pie
Special Note: Certified Certified and Fair Trade Certified
Producer: Koke Washing Station
Single Origin: Yirgacheffe, Ethiopia
Elevation: 2000m
Varietal:
Process: Washed
Tasting Notes: Lemon Zest, Rose Water, Melon
Location: Kirinyaga, Kenya
Producer: Kiunyu Wet Mill
Elevation: 1644m
Verietal: SL34, Ruiru 11, Baitan
Process: Washed
Tasting Notes: Brown Sugar, Blackberry Syrup, Merlot
Kiunyu Wet Mill was established in the 1960s and currently
has 3,082 members. It is one of two factories operated by Karithathi Farmer Co-operative Society headquartered in the town of Kirinyaga. Kiunyu, managed by Joseph Musila, is situated at 1,644 MASL and serves smallholder farmers in the local villages of Kianduma, Kiambuku, Kiambatha, Gature, and Kiamuki. The farmers typically have a small amount of land and cultivate the varieties of SL34, Ruiru 11 and Batian. As part of their membership, the co-operative provides training, credit & financial services, and inputs such as fertilizer to increase yield and plant health.