Welcome to The Historical Clinton Inn! Gateway to the Irish Hills
The Clinton Inn welcomes you. We offer great food, drinks, and cocktails in our restaurant, premium and delicious coffee in the Clinton Coffeehouse, overnight lodging in our botique hotel, and private events and catering.
Accomodations
The Clinton Inn is an old historic building built in 1901. It's unique, charming, very quirky, and some of the locals tell us it's haunted. We currently have four (4) rooms available for nightly stays. All rooms are on the second floor and have their own private bathrooms. Since the Huffaker Family purchased it in 2019, we have replaced the beds, mattresses, pillows, sheets, towels, and other linens with new items. The beds feature hotel grade King and/or Queen sized mattresses and are super comfortable. Room 1 has been given a full facelift, and we're updating furniture, fixtures, and decor throughout the entire hotel as an ongoing project. A larger remodel to open up more rooms is currently being planned.
Ammenities
Here are some fantastic things we offer to make your stay with us more enjoyable and comfortable.
Clean and comfortable rooms with private bathrooms. Non-Smoking hotel with no lingering smells or odors.

All beds are new King or Queen sized with super comfy mattresses and all new linens.

We have Flatscreen TV's in all of the rooms. Currently all of them have local cable services. Room 1 and Room 2 have Smart TV's with Free SLING access to news, sports, and other basic stations. You're also able to login with your own netflix or other streaming accounts for movies and music.

We have free WIFI high speed Internet available in all of the rooms. The Clinton Coffeehouse also has free WIFI and a lounge area to work and just relax on the ground floor.

The Clinton Coffeehouse is open on the first floor by the lobby.  It's hours are 7:00am to 6:00pm weekdays and 8:00am to 6:00pm on the weekends. https://clintoncoffeehouse.com for more info.

Our full service restaurant is open for lunch and dinner on weekdays (Closed Monday), and open for our special brunch menu on Sundays. Check out the restaurant page here.

We're close to the Irish Hills, Michigan International Speedway, the University of Michigan in Ann Arbor. If you're planning on being anywhere in the areas of Adrian, Tecumseh, Clinton, Saline, Manchester, the Irish Hills, The Clinton Inn is a great central location close to where you need to be.

Distances to various locations: 12 Miles to Saline. 19 Miles to U of M Stadium in Ann Arbor. 15 Miles to Michigan International Speedway. 15 Miles to Adrian. 17 Miles to Chelsea. 48 Miles to Toledo, OH.  36 Miles from the Detroit Metro Airport (DTW).
The Historic Clinton Inn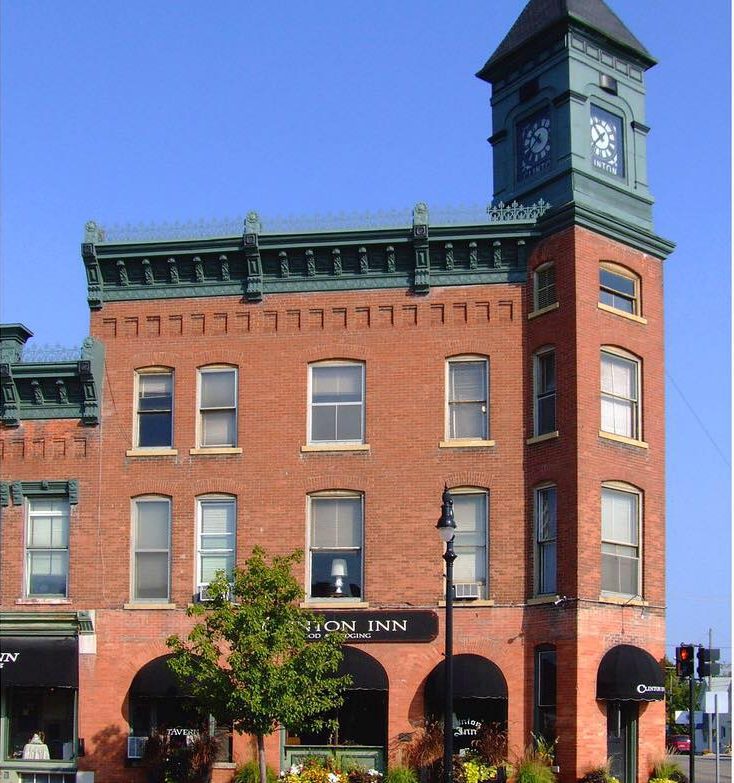 Hotel Policies at a Glance:
A complete list of all of our house rules and policies can be found at https://theclintoninn.com/rules. The following is a summary of the highlights:
Check in: 3:00pm / Check out: 11:00am
Cancellation Policy: 48 Hours Advance Notice
Pet Policy: No Pets Allowed except registered Service Animals
No Smoking:  Michigan State Law prohibits smoking in a Hotel, Restaurant, or other public place.
Want a unique date night idea or a romantic night out with someone special? The historical Clinton Inn is an ideal destination when you need to get away to celebrate any special occasion. Whether it's date night, a staycation, an anniversary, new love, your wedding night, or you just need to get away from the kids for a night together, the Clinton Inn can help add some sparkle and magic to your relationship.
We offer four couples romance packages ranging from a simple touch to a grand presentation. All of our packages are thoughtfully designed and executed with a personal touch just for your occasion.
HOW TO ORDER A ROMANCE PACKAGE: The Romance Packages are sold as add-on's to a regular night stay at The Clinton Inn. Simply go to our online reservation system, select the room and the date you want to book, then choose the Romance Package you want to purchase. It will be calculated into the total price as you check out. We'll take it from there!
* Please ensure that if you purchase a package that includes dinner, that you do so on a night that the restuarant is open. Currently it would not be possible to do a dinner package on Sunday Night or Monday Night due to the restaurant business hours. *
Destination Location
Our goal at The Clinton Inn is that we will be your destination of choice for delicious food and dining, unique, fun, and mysterious lodging, and great coffee when you're in Southeast Michigan.