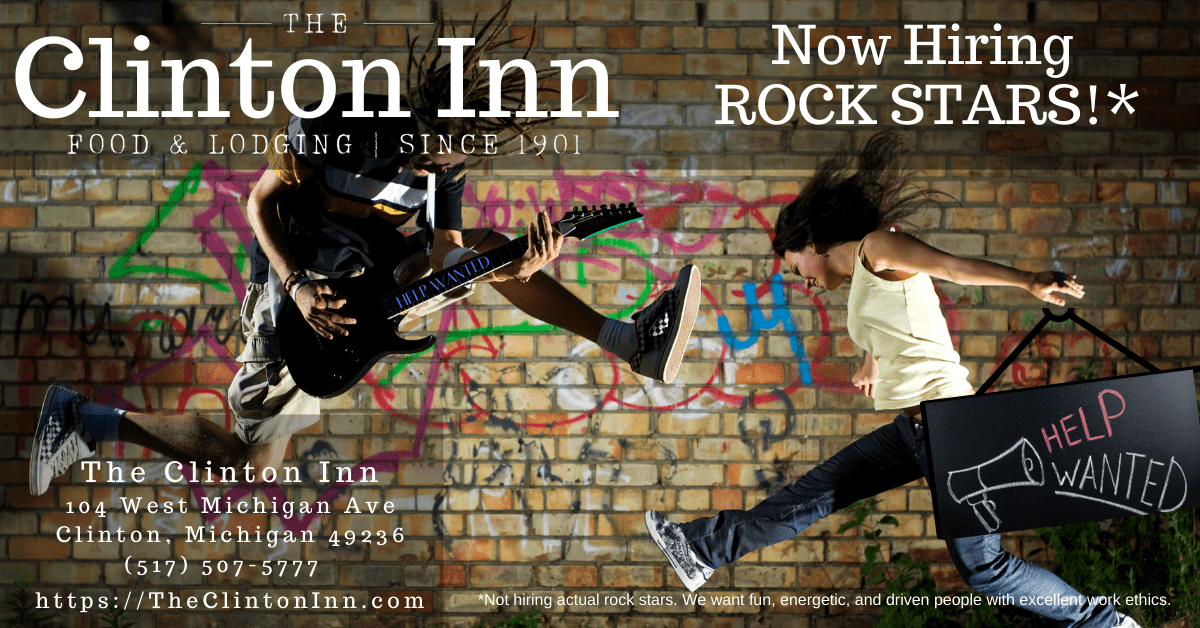 Important Criteria
The people we choose for employment positions at the Clinton Inn will play a key role in building our company vision.
Experience is preferred for all positions, but not necessarily required.
Preference is given to persons with experience in the hospitality industry.
Compensation will be determined by experience and expected contribution to the company.
Ideal Candidate(s)
As the face of the company, each employee represents us and helps build a positive experience for each customer. We demand and require professionalism and personal responsibility from all of our staff. Our ideal candidate is a team player with a winning attitude and a ferocious work ethic. This person is able to work independently when required, takes initiative, is willing to learn, and able to manage tasks proficiently.
Employment at the Clinton Inn, 2022 Edition
As we roll into the summer of 2022 and Covid-19 is behind us, we are now in a growth mode and staffing positions across the entire business. We have many part-time positions available to be filled immediately.
The Clinton Inn is back, bigger and stronger than ever, and we want YOU to be part of it. Check out the positions we have available and submit your application today!
Our Company Environment
The Huffaker Family has owned the Clinton Inn since June of 2019. We are a family-owned business with strong business ethics and family values. We offer a casual and fun working environment. We have a larger than life vision for the Clinton Inn. Overall, we strive to become a destination, something unique and different than our customers can find anywhere else. We want our customers to enjoy their experience in our unique and charming historic venue.
A big part of the experience we're creating is with how our customers are treated and the level of service they receive. Many of our goals and objectives are to provide a fantastic experience to any of our customers regardless of whether they are eating in our dining room, enjoying a latte in the coffeehouse, staying in our hotel, or putting on a private dinner party.
Positions Available
We are actively hiring for the following positions:
Server(s), part-time in the restaurant.
Bartender(s), part-time in the restaurant.
Barista(s), part-time in Clinton Coffeehouse.
Dishwasher(s), part-time in the kitchen.
Prep and Chef's assistant, part-time in the kitchen.
Private Event Coordinator, part-time.
Private Event Staff, part-time.
Hostess, part-time in the restaurant.
Front of House Supervisor, part-time in the restaurant.
Baker of pastries and desserts, part-time.
Maintenance / Handyman, part-time.
Cleaning crew, part-time.
Housekeeping, part-time.
* We may fill multiple positions with a single candidate *
Job Application
Please fill out the employment application form below, and attach your resume to the form in PDF format.  We will arrange interviews BY APPOINTMENT ONLY. We will not be able to accept walk-ins due to our scheduling constraints and demands inside the restaurant.
In compliance with federal law, all persons hired will be required to verify identity and eligibility to work in the United States and to complete the required employment eligibility verification form upon hire.