Welcome to Clinton Michigan, Gateway to the Irish Hills
Nestled in the serene landscapes of southeastern Michigan, Clinton entices tourists with its rich history and ample opportunities for outdoor adventures. This charming village seamlessly combines the allure of well-preserved 19th-century architecture with the natural beauty of the region. Surrounded by lakes, lush forests, and rolling hills, Clinton offers a plethora of outdoor activities, from hiking and bird-watching in nearby parks to fishing in pristine waters. Additionally, its proximity to the nearby Irish Hills region opens up a world of exploration, with various recreational opportunities and attractions to be discovered, making it an ideal destination for those seeking a getaway to embrace the great outdoors.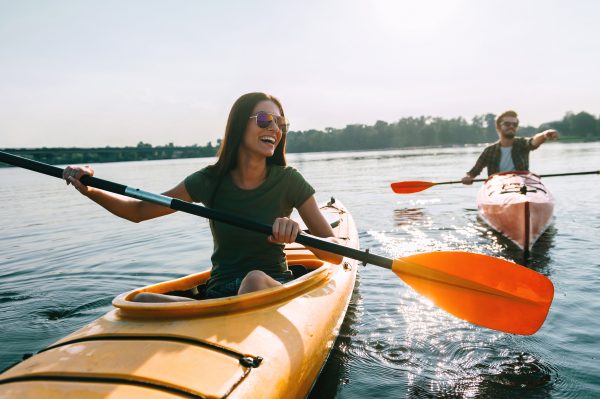 Outdoor Activities
Outdoor enthusiasts in and around Clinton, Michigan, and the neighboring Irish Hills can revel in a variety of nature-based activities. From hiking and wildlife observation to water sports and seasonal festivities, this area is a playground for those who love the outdoors. With its lakes and waterways, you can also enjoy boating, swimming, and other water activities, making it a comprehensive destination for nature and water lovers alike.
WJ Hayes State Park & Wamplers Lake
W.J. Hayes State Park, nestled in the picturesque Irish Hills just west of Clinton, is a delightful destination for families and tourists alike. Boasting over 700 acres of natural beauty, the park offers a serene getaway with its scenic campground along the shores of Wamplers Lake. Families can enjoy a variety of outdoor activities, including swimming, boating, and fishing in the pristine lake, while the well-maintained hiking trails provide opportunities for nature walks and exploration. With modern and rustic campsites, amenities like restrooms and showers, and a family-friendly atmosphere, W.J. Hayes State Park invites visitors to unwind, connect with nature, and create lasting memories in the heart of Michigan's tranquil landscape.
Website: https://www2.dnr.state.mi.us/parksandtrails/Details.aspx?id=454&type=SPRK
Address:  1220 Wamplers Lake Road, Onsted, MI 49265
Phone: 517-467-7401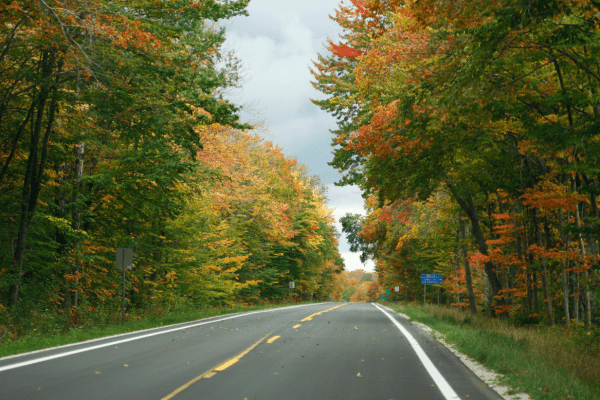 Scenic Drive along the historic US-12 Highway
Embarking on a scenic drive along the US-12 highway from Clinton Michigan to Coldwater Michigan through the enchanting Irish Hills offers a year-round visual extravaganza, with each season bestowing its unique charm upon the landscape. In spring, the hills burst into vibrant shades of green, adorned with blooming wildflowers, while the lakes reflect the freshness of the season. Summer transforms the journey into a lush and idyllic panorama, with rolling hills and shimmering lakes creating an inviting backdrop for a leisurely drive.
As autumn arrives, the landscape undergoes a breathtaking transformation, casting the hills in hues of red, orange, and gold. Winding roads become pathways through a living canvas of fall foliage, and the lakes mirror the kaleidoscope above, making every turn a captivating vista. Winter blankets the route in serene beauty, as snow-clad hills and frozen lakes turn the landscape into a tranquil winter wonderland. Regardless of the season, the US-12 drive through the Irish Hills promises an ever-changing spectacle, ensuring that this scenic route remains a timeless destination for travelers seeking beauty in every season.
Suggested Route:  Clinton, Michigan to Coldwater, Michigan (56 Miles one-way).
Suggested Activities:  Antique Stores, Wineries, Shopping, Dining, Lakes, Ice Cream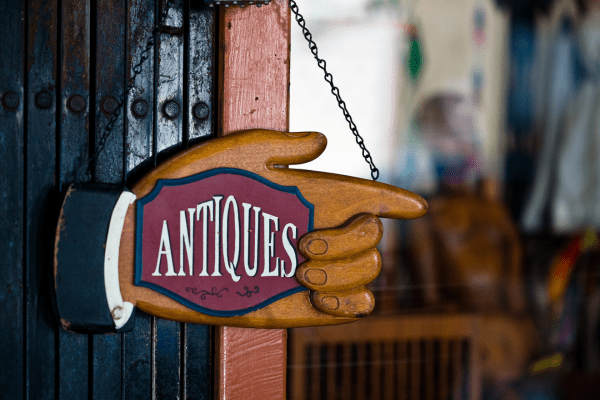 Antique Trail along the US-12 Highway
The antique culture along the US 12 highway near Clinton, Michigan, is characterized by a rich tapestry of history, nostalgia, and a vibrant community of collectors, enthusiasts, and antique dealers. As part of the broader antique trail, this region offers a diverse array of vintage treasures, each piece holding a story from the past. The scattered antique stores along the US 12 create a unique experience, encouraging exploration and the thrill of discovery as visitors meander through charming towns and countryside locations. The culture is often steeped in a sense of community, with local businesses contributing to the preservation of historical artifacts and fostering a shared appreciation for the beauty and craftsmanship of bygone eras. The antique trail along the US 12 is not just a shopping experience but a journey through time, where each store contributes to the collective narrative of the region's cultural heritage.
12 Vintage Market, Clinton Michigan
US12 Vintage Market provides refurbished vintage furniture, unique antiques, hand crafted goods, man cave items, military, home decor and inspiration.
Website: https://www.facebook.com/12vintagemarket/
Address:  2751 West Michigan Ave, Clinton MI 49236
Phone: 517-701-1005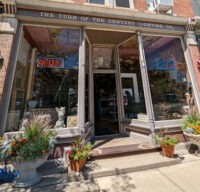 Turn of the Century Lighting Company, Clinton Michigan
Specializing in vintage lighting devices from the Victorian thru Atomic eras, lamps parts, and restoration services. Offering other unique items from antique advertising to vintage furniture. Currently open by chance or appointment.
Website: https://www.michigan.org/property/turn-century-lighting-company
Address:  116 West Michigan Ave, Clinton MI 49236  (Next to the Clinton Inn in Downtown Clinton)
Phone: 517-456-6019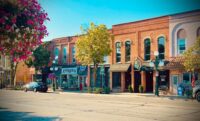 Downtown Tecumseh / Various shops and Antiques
Not directly on the US-12 but a worthwhile tangent to any antiquing adventure. Tecumseh, just 5 miles south of Clinton, has a thriving and lively downtown area with unique shops and eateries.  Worth mentioning are the following antique shops:
Hitching Post Antiques Mall
Tecumseh Trade Center & Flea Market
Second Chance Consignment Boutique
Tecumseh Antique Appeal
Antiques & Vintage on the Boulevard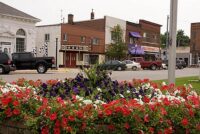 Brooklyn, MI / Various Antiques
Just a couple miles north of the US-12 in the scenic Irish Hills west of Clinton. A few antique shops to explore:
Pinetree Antiques & More
Memory Lane Antique Shop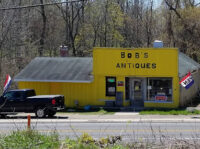 Bob's Antiques, Somerset Center, Michigan (Irish Hills along US-12 Highway)
Address:  12419 E Chicago Rd, Somerset Center, MI 49282  (23 miles West of Clinton along the US-12 Highway)
Phone: 517-688-3596
Allen, Michigan (Irish Hills along US-12 Highway, 43 miles West of Clinton on the US-12 Highway)
A spectacular road trip through the Irish Hills takes you to Allen, Michigan for several Antique Shops that are sure to please:
Hog Creek Antique Mall
Allen Antique Barn
Allen Antique Mall
The Livery Antiques
Capital Antiques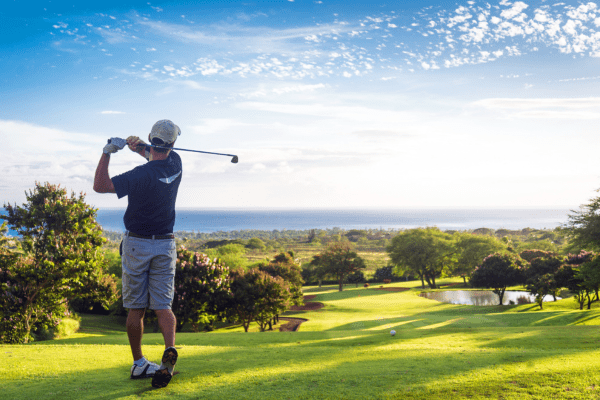 Golf
Embark on a golfing adventure along the US 12 highway that passes through Clinton, Michigan, and the serene Irish Hills. Diverse golf clubs await with challenging courses and scenic fairways, catering to all levels of enthusiasts. The Irish Hills, nestled along this iconic highway, provide a lush backdrop for both seasoned and novice players.
Rustic Glen Golf Club (5 Miles East of Clinton on the US-12 Highway)
Rustic Glen Golf Club was completely renovated between 1999-2001. If you are new to the area or just visiting, make it your first choice for a round of golf in Saline, Michigan, and you won't be disappointed. The 18-hole public course is located on the edge of the Irish Hills area and just outside of Clinton, Michigan.  The new 5,000 square foot clubhouse facility was opened in 2001 and is home to a full service pro shop and ACE's Pub & Grill.  It also features a 350 yd natural grass driving range with chipping and putting greens.  The relaxed atmosphere of the course is complemented by the great natural scenery.  Rustic Glen is owned and operated by the Hodges family who has been in the golf business for three generations.
Website:  https://www.rusticglen.com
Address:  12090 West Michigan Ave, Saline, MI 48176
Phone: 734-429-7679
Gauci Golf Resort (10 Miles West of Clinton on the US-12 Highway)
Experience the Irish Hills of Michigan. Elevated tee boxes and breath-taking views with a lot of character.
Website: https://gaucigolfresort.com
Address: 8421 Sports Park Dr, Onsted, MI 49265
Phone: 517-858-9222
Food and Drink
If you're looking for some great food and drinks in the Clinton, Michigan area, you're in luck! There are plenty of local eateries and bars to choose from within a 20-mile radius of the Clinton Inn. Here are some of our top picks:
Clinton
Tecumseh (5 Miles South of Clinton)
Just a short 5-mile drive from Clinton, Tecumseh has plenty of great food and drink options.
Irish Hills
Meander through the Irish Hills just west of Clinton for several great spots to grab a drink or a bite to eat.
Clarklake (22 Miles West and North of Clinton)
Take a nice scenic drive through the Irish Hills and up to Clark Lake for some amazing food options.  About 22 miles from Clinton, Clarklake has a variety of great food and drink options to choose from.
Whether you're in the mood for classic American fare, Mexican cuisine, or barbecue, there's a great local spot to suit your tastes within a 20-mile radius of the Clinton Inn. So why not get out and explore the area's food and drink scene? You might just discover your new favorite spot!
Southeast Michigan Wine Trail
The Southeast Michigan Wine Trail is a collection of wineries located along the US-12 highway (or within close proximity) and through the Irish Hills area in the southern part of Michigan. The wineries are situated in and around the towns of Jackson, Onsted, Brooklyn, and Tecumseh, all of which are easily accessible from the US 12 Highway that runs through the Village of Clinton.
A delightful wine trail in the Lenawee County area of Michigan, it encompasses several wineries and vineyards, offering a diverse selection of locally produced wines for visitors to enjoy. This trail provides an opportunity to explore picturesque vineyards and tasting rooms, where you can sample a variety of wines, learn about the winemaking process, and immerse yourself in the unique flavors of Michigan wines. It's a perfect destination for wine enthusiasts looking to experience the charm of the local wine scene in southeastern Michigan.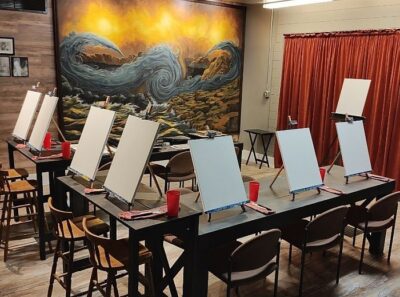 Avenue Art House, Clinton Michigan
Avenue Art House is a place that provides a variety of artistic events and services for a fun experience in a creative atmosphere. Gallery and studio of Evan Ringuette. Available for private parties, as well as regularly scheduled events open to the public such as Coffee and Painting.  Many family-friendly events as well as events geared towards adults.
Website: https://www.avenuearthouse.com/
Address:  127 West Michigan Ave, Clinton MI 49236
Phone: 517-701-1400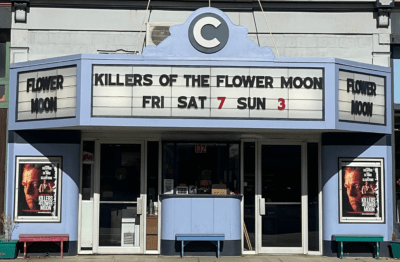 The Clinton Theater, Clinton Michigan
The Clinton Theater, just a few doors down from the Clinton Inn, stands as a beloved historic landmark in the heart of the town. Originally established in the early 1940s, this charming theater has been a focal point of entertainment for locals and visitors alike. Renowned for its classic marquee and nostalgic ambiance, the Clinton Theater continues to screen a mix of contemporary blockbusters and indie films, ensuring it remains a cherished gathering place for generations, blending the old-world charm with modern cinema experiences.
Website: http://www.clintontheater.com/
Address:  132 West Michigan Ave, Clinton MI 49236
Phone: 517-456-4315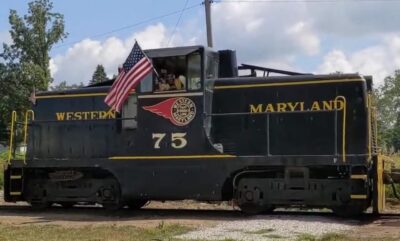 Southern Michigan Railroad, Clinton Michigan
The Southern Michigan Railroad Society, Inc. is dedicated to building an operating museum railroad using the first branch rail line into Michigan — the Palmyra and Jacksonburgh — and preserving its historical railroad era (1838-1982). The Organization aims to promote the awareness of railroading though educational and social activities involving its members and communities of Tecumseh and Clinton, Michigan. Our educational purpose is "to collect historical artifacts, preserve them for future generations, and to educate the public about railway history."
Website: http://www.southernmichiganrailroad.com/
Address: 301 Bartlett St, Clinton, MI 49236
Phone: 517-456-7677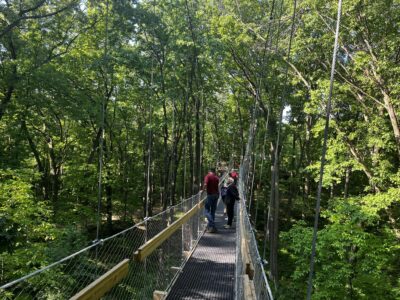 Hidden Lake Gardens, Tipton MI (12 Miles Southwest of Clinton)
Nestled in the picturesque landscape of the Irish Hills, Hidden Lake Gardens is a stunning botanical oasis sprawling across 755 acres in Tipton, Michigan. This serene haven boasts diverse ecosystems, featuring beautifully curated gardens, serene trails, and shimmering lakes. Visitors are enchanted by its unique collections, including the Bonsai and Conifer gardens, showcasing a blend of native and exotic flora. Educational programs and events often invite nature enthusiasts and curious minds to explore and appreciate the rich biodiversity, making it a tranquil escape and an educational gem within the Irish Hills region.
The new Canopy Walk at Hidden Lake Gardens opened in 2023 and features a 700 foot long suspension bridge 65 feet above ground, is 36″ wide and wheelchair and stroller friendly.
Website: https://ipf.msu.edu/hidden-lake-gardens
Address:  6214 Monroe Road, Tipton MI 49287
Phone: 517-431-2060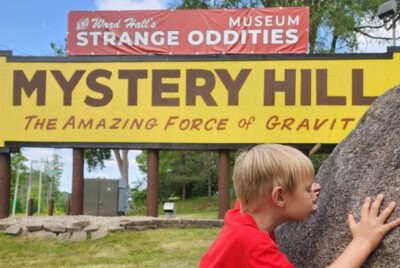 Mystery Hill, Irish Hills, MI (9 miles West of Clinton on US12)
This mysterious destination, established in 1952, is for all lovers of the strange and wonderful. Located in Michigan's Irish Hills, where nothing is as it appears, and leprechauns may abound. Mystery Hill is the premier site of abnormal forces of gravity that will boggle your mind. These natural illusions defy nature's laws and confuse your senses. Water runs uphill, a ball refuses to roll downhill, and a pendulum that only swings to the south are just a few of the mind-twisting exhibits to experience at Mystery Hill.  *Open Seasonally from Memorial Day thru Labor Day *
Website: https://visitmysteryhill.com/
Address:  7611 US-12, Onsted, MI 49265
Phone: 517-467-2517
Pirates Adventure Mini Golf, Irish Hills, MI (7 miles West of Clinton on US12)
Pirates Adventure Mini Golf offers a 20-hole mini adventure golf course and ice-cream. ** Open seasonally **
Website: https://www.facebook.com/piratesadventures
Address:  5768 Michigan Ave, Tipton MI 49287
Phone: 517-431-5041
Stone Mountain Miniature Golf, Tecumseh, MI (7 miles South of Clinton in Tecumseh)
Stone Mountain offers a fun-filled day of adventurous mini golf.  The 18 hole mini golf course offers many exciting and challenging obstacles along the winding paths. Your adventure will have you pass over bridges, venture inside a cave, and even navigate stepping stones to cross the river. 
Website: https://twinpinestecumseh.com/stone-mountain-mini-golf
Address: 102 West Russell Road, Tecumseh, MI 49286
Phone: 517-423-7949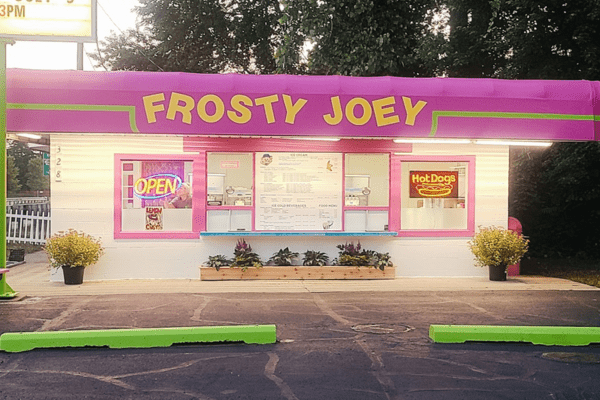 Ice Cream Stands
In Michigan, the ice cream culture thrives during the warmer months. Local ice cream stands become more than just places to indulge in frozen delights; they transform into community hubs. Offering a range of flavors, shakes, and sundaes, these ice cream stands draw families and friends together in a tradition of summer sweetness. The scenic surroundings, whether nestled near the lakes of the Irish Hills or in the quaint town of Clinton, enhance the experience. Locals and visitors alike embrace the laid-back atmosphere, turning a simple ice cream treat into a cherished tradition that adds a delightful and refreshing touch to the local culture.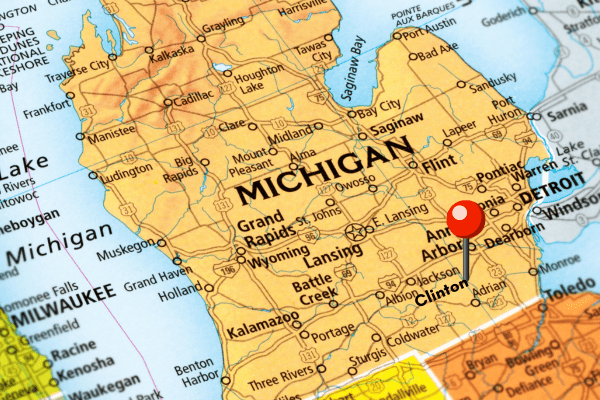 Regional and Seasonal Attractions
Nestled in a strategically convenient location, Clinton, Michigan offers residents and visitors easy access to a plethora of regional events and attractions. Situated within proximity to the University of Michigan, Clinton becomes a hub for avid sports fans, especially during U of M games, creating an electric atmosphere during collegiate sports seasons. Racing enthusiasts find themselves in the midst of excitement with the nearby Michigan International Speedway (MIS) hosting NASCAR events, while music lovers can immerse themselves in the country music festivities of Faster Horses. The charming town is also in close proximity to the scenic Irish Hills, providing a serene retreat for nature enthusiasts. With its central location and accessibility, Clinton serves as an ideal home base for those looking to explore a diverse range of regional events and attractions.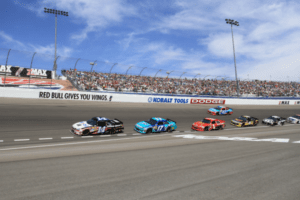 NASCAR / Michigan International Speedway (MIS)
Just west of Clinton in the Irish Hills is the Michigan International Speedway (MIS).  MIS is a two-mile, D-shaped oval track that hosts various NASCAR (National Association for Stock Car Auto Racing) and other motorsports events. Known for its high banking and wide racing surface, MIS has a seating capacity of over 70,000 spectators. The track is a popular venue for NASCAR Cup Series races, including the FireKeepers Casino 400 and the Consumers Energy 400. Beyond its racing events, the speedway also offers camping facilities, entertainment options, and a unique fan-focused experience, making it a significant destination for motorsports enthusiasts.
Address: 12626 US Highway 12, Brooklyn, MI 49230
Phone: 517-592-6666
Website: https://www.mispeedway.com/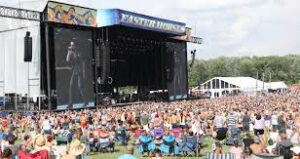 Faster Horses Festival at MIS
The Faster Horses Festival is an annual country music event held at the Michigan International Speedway in Brooklyn, Michigan. Known for being one of the premier country music festivals in the Midwest, Faster Horses attracts a diverse lineup of top country artists and emerging talents. The festival typically spans three days, offering attendees a weekend filled with live music, camping, and a lively atmosphere. Beyond the performances on multiple stages, festival-goers can enjoy various activities, food vendors, and a sense of community in the scenic surroundings of the Michigan countryside. Faster Horses has become a popular summer destination, drawing country music enthusiasts from across the region for a memorable and immersive festival experience.
Website:  https://fasterhorsesfestival.com/
2024 Dates:  July 19, July 20, July 21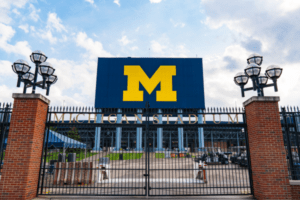 Michigan Football at the Big House!
The University of Michigan Stadium, known as "The Big House," is an iconic football venue in Ann Arbor, Michigan. With a seating capacity exceeding 107,000, it ranks among the largest college football stadiums globally. Home to the Michigan Wolverines, the stadium's rich history and bowl-shaped design, constructed in 1927, create a legendary atmosphere for passionate fans. Witness to countless historic moments, The Big House stands as a symbol of collegiate football tradition and community spirit.
Website: https://mgoblue.com/
Address:  1201 S Main St, Ann Arbor, MI 48104
Distance from Clinton: 20 Miles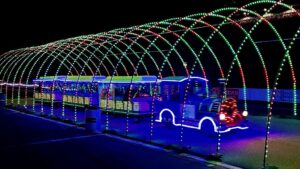 Holiday Nite Lites at MIS
Nite Lites at MIS features a spectacular drive-through holiday light experience, where visitors can enjoy a festive display of twinkling lights, animated scenes, and holiday decorations. Families often drive through the illuminated route in the comfort of their vehicles, creating a magical and festive atmosphere. The event may also include themed nights, visits from Santa Claus, and other holiday-related activities.
Website: https://nitelitesshow.com/
Address:  12626 US-12, Brooklyn MI 49230
Distance from Clinton: 13 Miles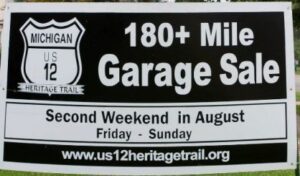 Michigan's Longest Garage Sale
Michigan's longest yard sale, the annual US 12 Heritage Trail Garage Sale, takes place every August, winding its way through the charming town of Clinton. This eagerly awaited event transforms the historic highway into a bustling haven for treasure hunters and vendors. Along the route, participants can explore Michigan's heritage, discovering antiques, collectibles, and unique items against the backdrop of Clinton's scenic charm. More than a shopping extravaganza, this community celebration invites locals and visitors alike to experience the spirit of the region while uncovering hidden gems during this renowned yard sale.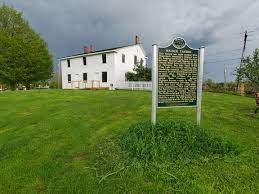 Cambridge Junction Historic State Park / Walker Tavern Complex
In the 1840s, Sylvester Walker's farmhouse tavern at Cambridge Junction was a favorite rest stop for travelers heading west on the Old Chicago Road. Today, the tavern is part of an 80-acre state park. Visitors can tour the site's three historic buildings, view exhibits about tourism and enjoy the natural landscape of the Irish Hills.  ** Open Seasonally, generally from May 1 through October 1 **
Website: https://www.michigan.gov/mhc/museums/cj
Address:   13220 M-50, Brooklyn, MI 49230  (14 miles West of Clinton at Us-12 and M-50 highways)
Phone: 517-930-3806