Due to the restrictive government imposed mandates, our entire restaurant and hotel operation is closed down until further notice. We are still offering catered box lunches to businesses, and we are now taking reservations for our venue for private events such as wedding dinners, bridal showers, baby showers, private birthday parties, and more.
Business Operations Status:
Private Events Venue: Now Booking Reservations
Sandwich Shop Catering: OPEN
Clinton Coffeehouse: Closed
Sandwich Shop: Closed
The Clinton Inn Restaurant Curb-Side: Closed
The Clinton Inn Restaurant Dine-In: Closed
Hotel Operation: Closed
NOTE ABOUT CURRENT SERVICES AND OFFERINGS AT THE CLINTON INN:
Nothing below this point on our website (nor any other page) is likely to be accurate at the time of this writing (11/30/2020).  Each government mandate related to Covid 19 comes with new restrictions or changes to our operation. It's impossible to update everything and keep up to date with these mandates. Therefore, the above page is the only accurate information at this time related to our business.
Our Dining Room is now open! (JUST KIDDING, WE'RE LOCKED DOWN AGAIN).  Come experience the historic Clinton Inn for yourself! Our goal is to provide an exceptional dine-in experience to all of our restaurant customers. We are no longer offering online ordering or curbside pickup. This change will allow us to focus our attention on ensuring our dine-in customers receive the best service possible. We want your time with us to be an experience, not just another place to eat.
Restaurant Schedule
Date
Featured Menu Item *
Dining Options
Hours
Monday
Closed
Closed
Closed
Tuesday
Family Style
Curbside Pickup
4PM - 7PM
Wednesday
Family Style
Curbside Pickup

4PM - 7PM
Thursday
Family Style
Curbside Pickup
4PM - 7PM
Friday
Pacific Cod Fish Fry
(Weekly Friday Event)
Curbside Pickup
4PM - 7PM
Saturday
Brunch / Special Event
Curbside Pickup
Special Event Hours TBA
Sunday
Closed
Closed
Closed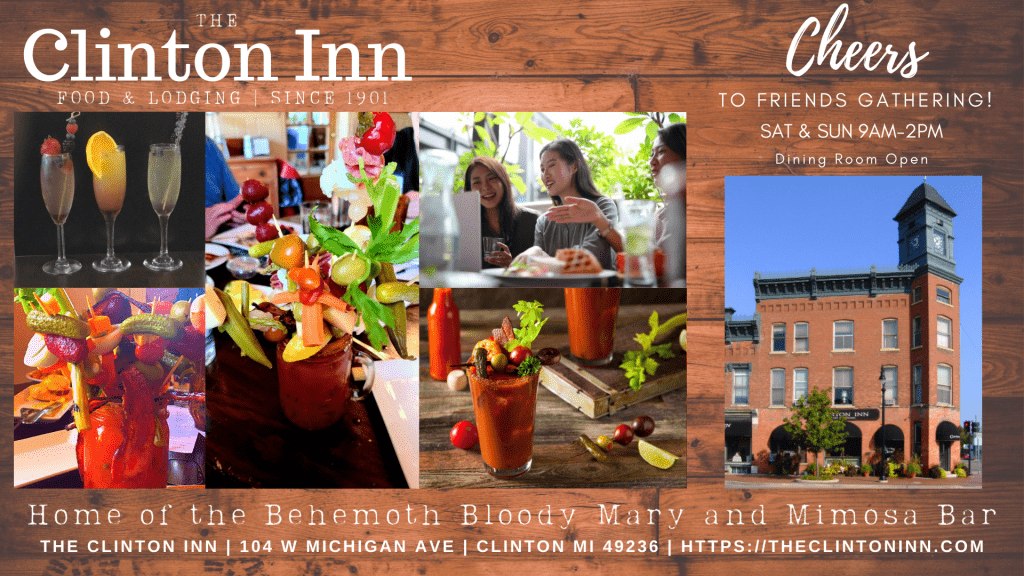 Restaurant Features
Happy Hour 4pm-8pm Weekdays

Delicious New Dinner Menu
Clinton Coffeehouse
Stop in at the Clinton Coffeehouse to get your caffiene fix! Located just inside the front lobby of The Clinton Inn, the Clinton Coffeehouse features unique and fun lattes, mochas, espresso, hot chocolate, tea, and smoothies. We also feature many freshly roasted single origin coffee from locations like Ethopia, Kenya, Costa Rica, Guatamala, and more.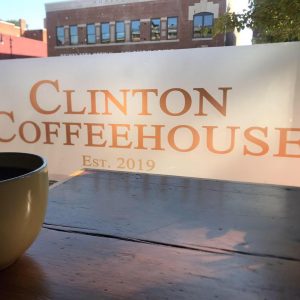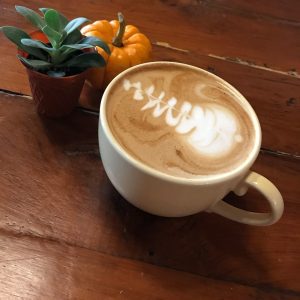 Clinton Coffeehouse Business Hours
| Day of Week | Venue Type | Business Hours |
| --- | --- | --- |
| Monday | | Closed |
| Tuesday | Coffee + Lunch | 10:00am - 2:00pm |
| Wednesday | Coffee + Lunch | 10:00am - 2:00pm |
| Thursday | Coffee + Lunch | 10:00am - 2:00pm |
| Friday | Coffee + Lunch | 10:00am - 2:00pm |
| Saturday | Coffee + Lunch | 10:00am - 2:00pm |
| Sunday | | Closed |
Early settlers came to Clinton From New York state and named the village after their state governor, Dewitt Clinton. The site of the Clinton Inn was first settled by Alpheius Kies, who built a log house. After several changes in ownership, Alonzo Clark built the present 3-story brick hotel. It officially opened on Thanksgiving Day in 1901.
The hotel has three stories; the first floor features the full service restaurant, the Clinton Coffeehouse, and coffee lounge. The second floor is all guest rooms while the third has served as apartments since the 1980's.
The hotel was purchased by the Huffaker Family in May 2019. The hotel was in a state of disrepair at the time of purchase, and numerous improvements have been made.  Currently 4 rooms are available for nightly rentals, and larger renovations are planned to bring the hotel back to it's glory days.