Take Out / Online Ordering
Beginning on Wednesday, March 25th we will offer Family Style Dinners available for take-out between 4 PM and 7 PM Tuesday through Saturday.
This is a new process for us and we are rapidly adapting to a difficult social situation. Your patience is appreciated. For maximum safety and social distancing, as well as to ensure the most efficient operation and least food waste, the policies below apply at this time.
PLEASE NOTE:  We have ONE family style meal option each day. Please view the menu to see what day we offer a specific meal. It will only be available on the day it is advertised. It is very clear in the menu description. Even if you choose a different day, it will only be available on the date as provided. This is due to a limitation in the ordering software and we have no control over it at this time. Thank you for your understanding.

Coronavirus (COVID-19) Statement
Michigan Executive Order 2020-20
The Michigan Governor on 3/16/2020 issued executive order No. 2020-9 effectively closing all bars, restaurants, and coffeehouses until March 30th. On 3/22/2020, another executive order No. 2020-20 was issued extending this to April 14th, 2020. The order allows for take-out and delivery. You may review the executive order here: https://www.michigan.gov/whitmer
The Clinton Inn and the Clinton Coffeehouse are following the mandate and will use this page for the must current updates and information regarding our business and available offerings. 
COFFEEHOUSE
The Clinton Coffeehouse inside the Clinton Inn will be closed effective March 18th through April 13th. We anticipate reopening on April 14th along with the restaurant. We plan to offer various full bags of coffee for sale on our website and available during restaurant take out hours.
RESTAURANT
We are now offering limited FAMILY STYLE takeout dinners 5 days a week during the hours of 4PM and 7PM on select days. We will not be offering delivery. Everything will be takeout/pickup on the curbside at the back of the building.
We will offer ONE option per day and have options for 1) Dinner for Two and 2) Dinner for Four.
HOTEL
We are not offering any Hotel Rooms at this time due to limited staffing. We anticipate making rooms available again once the restaurant and coffeehouse reopen.
Gift Certificates Available for Online Purchase
Purhase Gift Certificates Online
We are now offering Gift Certificates online in the amounts of $10, $25, $50, $100, and $200 for use in the restaurant at The Clinton Inn and the Clinton Coffeehouse.  You are able to purchase the gift certificate on-line and pay in full. Once we receive your order, we will mail you a physical certificate for the value purchased. The gift certificates will be valid for up to a year after they are issued, and can be used starting immediately once we re-open the restuarant and Clinton Coffeehouse.
NOTE: When you buy a $50 gift certificate, we will send you one valued at $55. When you buy a $100 certificate, we will send you one valued at $115. We will only be offering this during the mandated shutdown. 
Experience the historical Clinton Inn! Gateway to the Irish Hills
The historical Clinton Inn welcomes you. Since it's opening in 1901, the Clinton Inn has offered delicious food options and unique and comfortable lodging in a quaint and charming setting. We offer great food, drinks, and cocktails in our restaurant, premium and delicious coffee in the Clinton Coffeehouse, overnight lodging in our boutique hotel, and private events and catering.
The Huffaker Family purchased The Clinton Inn in June 2019. It's an old historic building that's unique, charming, very quirky, and some of the locals tell us it's haunted. We currently have four (4) rooms available for nightly stays. All rooms are on the second floor and have their own private bathrooms. Since our purchase, we have replaced the beds, mattresses, pillows, sheets, towels, and other linens with new items. The beds feature hotel grade King and/or Queen sized mattresses and are super comfortable. Room 1 has been given a full facelift, and we're updating furniture, fixtures, and decor throughout the entire hotel as an ongoing project. A larger remodel to open up more rooms is currently being planned.
Restaurant Features
Homestyle Saturday Nights
Clinton Coffeehouse
Stop in at the Clinton Coffeehouse to get your caffiene fix! Located just inside the front lobby of The Clinton Inn, the Clinton Coffeehouse features unique and fun lattes, mochas, espresso, hot chocolate, tea, and smoothies. We also feature many freshly roasted single origin coffee from locations like Ethopia, Kenya, Costa Rica, Guatamala, and more.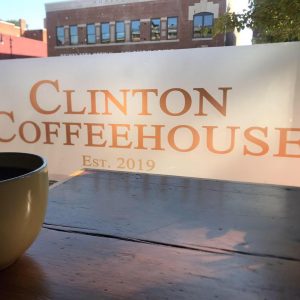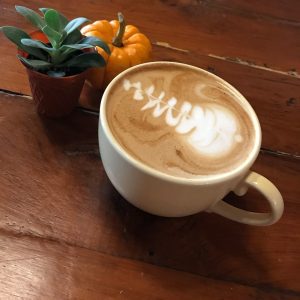 Clinton Coffeehouse Business Hours
| Day of Week | Venue Type | Business Hours |
| --- | --- | --- |
| Monday | Coffeehouse | 7:00am - 6:00pm |
| Tuesday | Coffeehouse | 7:00am - 6:00pm |
| Wednesday | Coffeehouse | 7:00am - 6:00pm |
| Thursday | Coffeehouse | 7:00am - 6:00pm |
| Friday | Coffeehouse | 7:00am - 6:00pm |
| Saturday | Coffeehouse | 8:00am - 6:00pm |
| Sunday | Coffeehouse + Brunch | 8:00am - 6:00pm |
Early settlers came to Clinton From New York state and named the village after their state governor, Dewitt Clinton. The site of the Clinton Inn was first settled by Alpheius Kies, who built a log house. After several changes in ownership, Alonzo Clark built the present 3-story brick hotel. It officially opened on Thanksgiving Day in 1901.
The hotel has three stories; the first floor features the full service restaurant, the Clinton Coffeehouse, and coffee lounge. The second floor is all guest rooms while the third has served as apartments since the 1980's.
The hotel was purchased by the Huffaker Family in May 2019. The hotel was in a state of disrepair at the time of purchase, and numerous improvements have been made.  Currently 4 rooms are available for nightly rentals, and larger renovations are planned to bring the hotel back to it's glory days.