Historic Event Venue
The Clinton Inn is a beautiful venue with rich personality and historic charm, making the perfect setting for a variety of private functions. Whether you want something formal or super casual, you'll find that the Clinton Inn will deliver a unique and memorable event that you'll remember for years to come. We have options to make your event a grand celebration by utilizing multiple floors, rooms, layout, and decorations, or pick from a variety of individual rooms for a simple event.
Corporate Parties & Events

Charity & Fundraiser Events

Business Seminars & Functions

Dinner Parties & Celebrations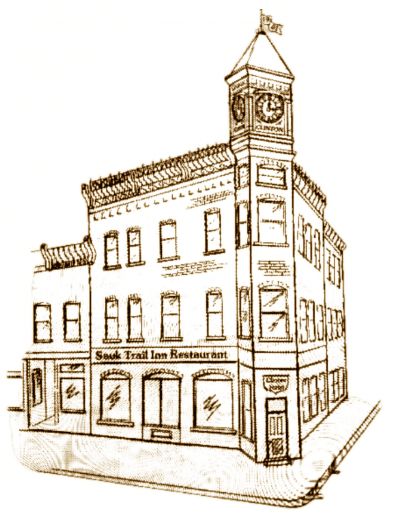 Promo Video
Watch our short promo video to become familiar with our venue and visualize what we can do for your event!
Tip: Hover over the video and click on the speaker at the bottom right to un-mute the sound!
Event Center Accommodations
The Clinton Inn offers all inclusive packages as well as custom options to build the perfect event for any occasion. Your dedicated event planner will help you choose the best options!
Food and Drink Options
A full table set up for self-service consumption. Hot brewed coffee from the Clinton Coffeehouse, hot water for tea, bottles of water, and cans of soda. Includes an assortment of sweeteners and creamer.
We have an assortment of hors d'oeuvre trays available for presentation at your event.
Our Mimosa bar features a variety of flavored mimosas, provided in self serve carafe's for your guests convenience. Our Bloody Mary bar features a variety of "build your own" options.
We have a full bar and can serve all types of alcoholic drinks. Cash Bar (drinks paid for by attendees at the bar) or Open bar (drinks are free to party attendees, bar tab is paid in full by the event sponsor).  Bottled beer, wine, and cocktails. Full kegs and full wine bottle options are available. Bartender required and provided.
Clinton Coffeehouse is fully staffed exclusively for your event. Event guests have access to the Coffeehouse and are able to order drinks from the menu. Barista is required and provided.
An assortment of desserts and other pastries. Cakes, cookies, muffins, and more.
We can provide a professional chef to customize your menu selections, oversee the kitchen staff, and personally prepare the most amazing food for your event.
Amenities and Extras
Professional photographer to capture all your special moments.
We work with a professional decorator to bring the perfect look and atmosphere to your event.
We can provide the perfect look and feel whether you want simple and casual, or more formal and upscale.
Cold spark firework machines that omit cold array of sparks safe for indoor use with no heat or smoke.
We can provide a portable sound system with amplifier and microphone, perfect for making announcements or presentations.
Large projector screen and projector, great for slide shows, event videos, or other presentations.
Disco ball and animated stage lights for any dance party.
Customized balloon arrangements to fit the theme of your event.
Facility and Logistics Information
Events held at the Clinton Inn can utilize most of the main floor and portions of the second floor depending on the size and scope of the function.
Capacity Restrictions
Capacity restrictions are set by the local fire Marshall. Each of the three rooms on the main floor has established capacities. When using the entire facility, the hallways and lobby provide additional capacity that can be taken advantage of.
Full Facility including Main Floor and Second Floor
An estimated capacity of 300 persons is possible for a Cocktail style event where people are generally standing and/or spread out throughout the entire facility. If seating is required for a dinner function, the sitting capacity in each room will be observed.